Tom Stone
Today is 8th anniversary of Tom's death and his spirit still lives
strong. His friend Sakith and I are going to temple to remember him
with blessings from the monks. Not a man ever to be forgotten and he
is missed and loved every day.
Ever onward Stoney. Love Alice 3/29/14

UPDATED Dec 2013 - Schools in Afghanistan in Tom's honor - click for details UPDATED Dec 2013
- Schools in Afghanistan in Tom's honor - 2011
STONEY A TRUE WARRIOR.

HE ALWAYS PLACED THE MISSION FIRST.

HE NEVER ACCEPTED DEFEAT.

HE NEVER QUIT.

HE NEVER WOULD LEAVE A FALLEN COMRADE.

STONEY ROCK STEADY.

ROCK READY .

ALWAYS GROUNDED TO THE SURROUNDINGS

A LOYAL FRIEND, SOLDIER, MEDIC, WARRIOR & BROTHER.

SEMPER-FI STONEY.

1SG.BUCK FELCH
Incredible audio tracks from interview with Tom in Yogyakarta, Indonesia Click Here

Thanks to Rich Pell rp3h@andrew.cmu.edu
Perry Deane Young's 1975 book, "Two of the Missing: A Reminiscence of Some Friends in War" about Tom's brother, Dana Stone, and Sean Flynn, has been re-issued under a new title with a new chapter that includes mention of Tom. "Two of the Missing

: Remembering Sean Flynn and Dana Stone

", can be ordered at www.amazon.com. See Wikipedia on Tom's Brother at this link.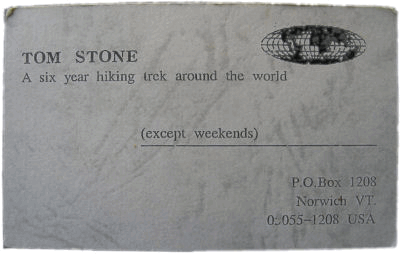 aka Stone, Stoney, Doc
"I can feel cold, I can feel rain, but I can feel good as long as I get letters."
"Be calm, be brave, and wait for the sign. Hope all is well."
"Still doing stupid things and getting away with it."
Stone
He had this ability to connect with anyone.
Guardsman, Maj. Tom Cahalan
Just Tom being in the room, he had a demeanor that calmed other people.
If Tom saw a need, he'd fill it, and when you live that way, outside of yourself, you get it.
childhood friend Elisha Morgan
If you couldn't get along with him, you might as well give up.
Lucien Guay
"What he dedicated his life to was unbelievable.
retired teacher Karlson